Modify GTM triggers to support automated scanning.
Modify GTM triggers to support automated scanning.
By Manish Gautam
updated 5 months ago
Secure Privacy provides a powerful feature to do a periodic automated scanning of your website. Scanning will identify the newly added plugins on your website. However, you need to add some exceptions in the GTM configuration, to allow our scanners to detect these changes.
This article explains all about the necessary steps that you need to do in GTM configurations. Here is a step by step guide for the same.
Note: We assume that you already have enabled blocking in GTM using Secure Privacy. If not, please follow this link to enable blocking. https://knowledgebase.secureprivacy.ai/article/5-how-to-install-secure-privacy-with-google-tag-manager-gtm
Step 1. Go to Triggers and Create a new Trigger with name Automatic Scanning
Step 2. Select trigger type as Page View and "Some Page Views" in Trigger Fires on.
Step 3. In the trigger, configuration enter these options
| | | |
| --- | --- | --- |
| Page URL | contains | automated-scanning |
Once you enter these values your trigger configuration will look like this.

Step 4. Now click on save to save the trigger.
Step 5. Next, you need to add this trigger on every plugin on which you have enabled cookie blocking. For example, we will take the "Google Analytics" use case.
Step 6. Go to Tags, Then click on your Plugin (Google Analytics in this case)
Step 7. In the triggering, section select the "Automatic Scanning" trigger that we created in step 2
Your setup will look something like this.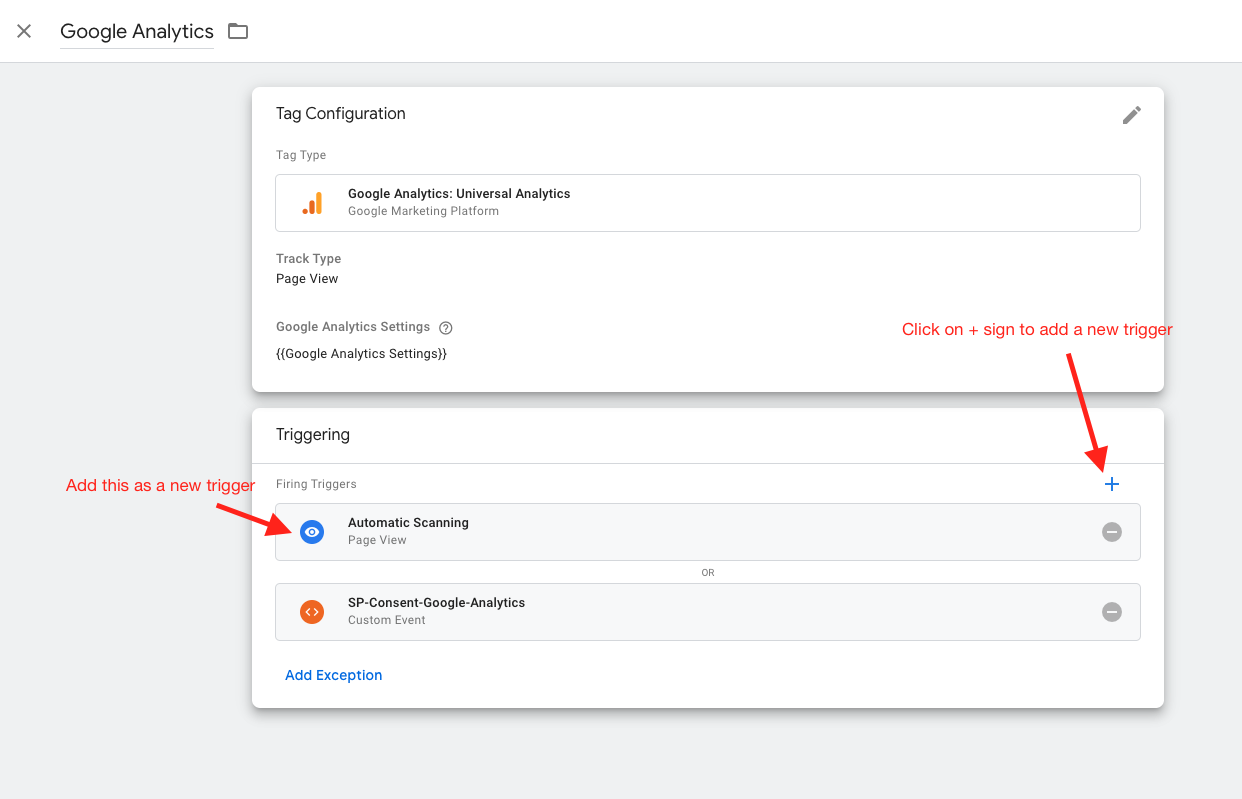 Step 8. Click on Save.
Your setup for automated scanning is done now.
Note: You need to repeat steps 5 to 8 for all the plugins.
Did this answer your question?